Celluloid, it is the first thermoplastic, was encountered accidentally. "Whoever sight out substitute for the ivory in billiard balls shall have reward of 10$." In 1863, Hyatt Brothers, engaged in printing industry in New Jersey, tried this competition. After trial and error, they gained inadvertently the inspiration for the invention. It was the result of spilling a bottle of collodion, used as water adhesive plaster. Having had gave attention to nitrocellulose included in the mark, by repetition of effort, they made celluloid by adding campher. In 1870, they obtained the patent for marketing of their invention after several improvements. it was the origin of celluloid.

In Japan the celluloid was first imported through Kobe as the sample goods in 1877. Celluloid manufacturing was corporatized by zaibatsu, and natural camphor which is obtained from cinnamomum camphora is distributed exclusively in the Far East, so Japan's celluloid production was on the rise and got to account for 40 percent of the world. In 1952,in the aftermath of World WarⅡ,export of celluloid accounted for over 50 paercent of total sum of export in Japan, which encouraged postwar rihabilitation. With mass production age, the rise of oil plastics led to decline of celluloid which was hard to production and processing. In 1994 with China launching celluloid manufacturing adopted Japanese technique, the production of Japanese-made celluloid ended in 1996. Now celluloid is used as ping-pong ball, eyeglass frame, writing materials, pick and accordion's body.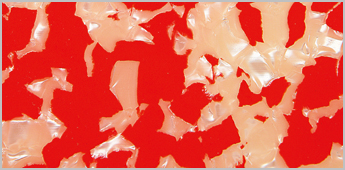 Including drying process, it takes around six months before all process achieves completion. This time we use the pattern with big goldfish with lively colors. A negative plate 2mm thick and a rectangle 1,400mm in length and 630mm in breadth is cut through like oblong panels, and be kept at constant temperature and humidity.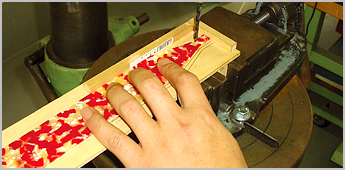 Drill a hanging hole in plates for soaking in warm water.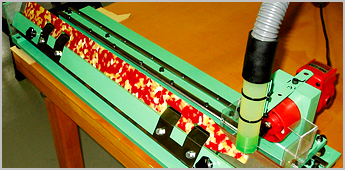 Cut the edge at accurate angle beforehand for fitting snugly together on forming into a pipe afterward.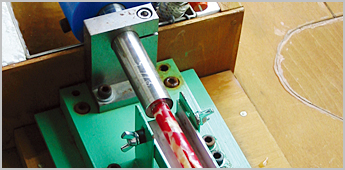 Warmed celluloid is made tube-shaped by solid-drawn steel pipe.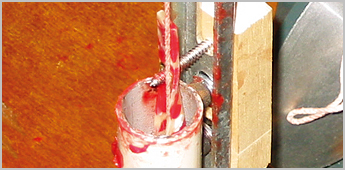 Join the both ends of cylindrical celluloid with soaking in Amir liquid.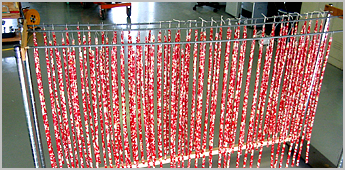 Hang the celluloid pipes to dry for about 2weeks. After that the pipes are cut to the length of one pen and round off their edge.

Press the celluloid pipes in the tank. After cooling down, they are taken out from the mold and dried for about 2 months.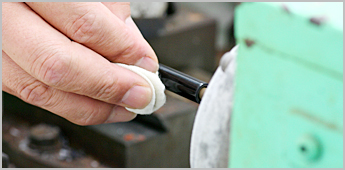 Inside and outside diameters are processed by cutting and shaving. give pipes a polish.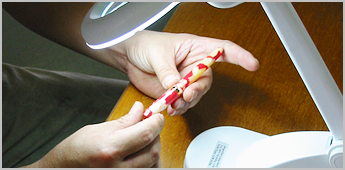 With attaching cores and metal fittings, assembly inspection is done.
---

Wrap the pen in woven celluloid strings(5mm wide and 0.2mm thick) with the skill of Kyoto's traditional craft "kumihimo". Their patterns differ with the way of weaving. You will get a feel braided, on touching them.